Aftercare Instructions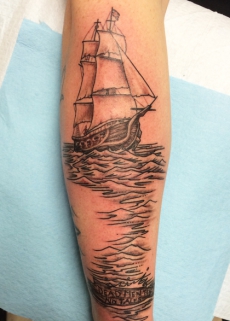 STEP 1
Wash the plasma (clear slimy fluid) off of the new tattoo 2 times per day for the first 2 days using a lather of antibacterial soap. Making a lather is important to dilute the liquid soap. Putting the gel directly onto the tattoo can be too concentrated and dry it out. Rinse for 30 seconds to 1 minute under cold running water and gently pat dry with a clean towel or paper towel. With adequate cold water rinses you should not need any lotion for the first day.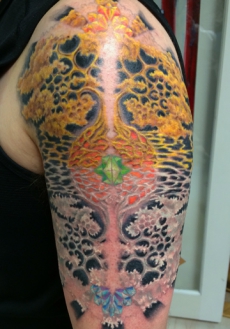 STEP 2
On the second day, if needed for comfort, begin to apply a small amount of Curel Original Formula or Fragrance Free Lotion. Use only once or twice per day. Gently rub the lotion in completely. Use cold water rinses as an alternative to more lotion. You can rinse right after applying lotion. Do not use Curel "Ultra Healing" lotion.
After a week or so, when the tattoo has almost entirely flaked or peeled (if it does at all) it will have a shiny, tissue paper look. At this stage the tattoo may look lighter and/ or not as crisp and bold. This is when you start massaging the Curel lotion into the tissue 2 – 3 times a day. The act of massage stimulates the regeneration of the skin cells. Do not just smother the tattoo in a layer of lotion. Always allow the skin to absorb the lotion and breathe for a few hours before putting more on.
STEP 3
Do not pick or scratch the tattoo. Leave any scabs or dry skin flakes alone. Wash them gently and when applying lotion; dab the lotion on them and carefully massage around them to prevent tearing them off.
Never wear tight clothes on a healing tattoo, They can chafe the ink away and they prevent the skin from breathing.
Moisturizing a healing tattoo is a delicate art. Do not over moisten the tattoo or neglect it until it is super dry. Read your skin. Tight, dry, cracking skin is over dry. Gooey, oily skin and/ or a halo of pimples around the tattoo indicates over moisture. Remember cold water rinses for 30 seconds are a great hydrating alternative to too much lotion.
Usually day 1 – 2 the tattoo looks great and just needs washing and rinsing. Day 3 – 5 it will dull over, crust a little, or scab. After about 5-9 days the scab or dry skin will begin to flake off leaving the shiny, foggy, tissue paper look. (Flakes or scabs have ink in them when they come off so don't be alarmed.) After days 10 – 21 of massaging with lotion, the tattoo should look solid, bold, bright and beautiful. The average total healing time is 2 – 4 weeks. Healing times can be significantly longer for some people who still heal well. If you have any questions, call or come into the shop.
Deposit Policy
We require a $50 deposit per person for all tattoo appointments. This deposit is non-refundable, but not additional. The deposit comes off of the total tattoo cost or the last sitting on larger tattoos. If you cancel your appointment, you will forfeit your deposit.
YOU MUST MAKE IT TO YOUR SCHEDULED APPOINTMENT IN ORDER TO USE YOUR DEPOSIT.